Pastor Rich Lusk
Pastor Rich Lusk has been at TPC since December, 2004. Before that he served at Redeemer Presbyterian (PCA) in Austin, TX and Auburn Avenue Presbyterian (CREC) in Monroe, LA. He and his wife, Jenny, have four kids.
Rich is a graduate of Auburn University (B. S. in Microbiology) and the University of Texas at Austin (M.A. in Philosophy).
Along with pastoring Trinity Presbyterian Church, Rich teaches for Wilson Hill Academy.
In addition to many articles, papers and essays, Rich is the author of Paedofaith: A Primer on the Mystery of Infant Salvation and a Handbook for Covenant Parents, as well as a contributing author to The Federal Vision and The Case for Covenant Communion. See the Pastor's Corner for more audio and writing by Pastor Lusk.
Pastor Rich can be reached by telephone at 205-980-5739.
 Assistant Pastor Kameron Edenfield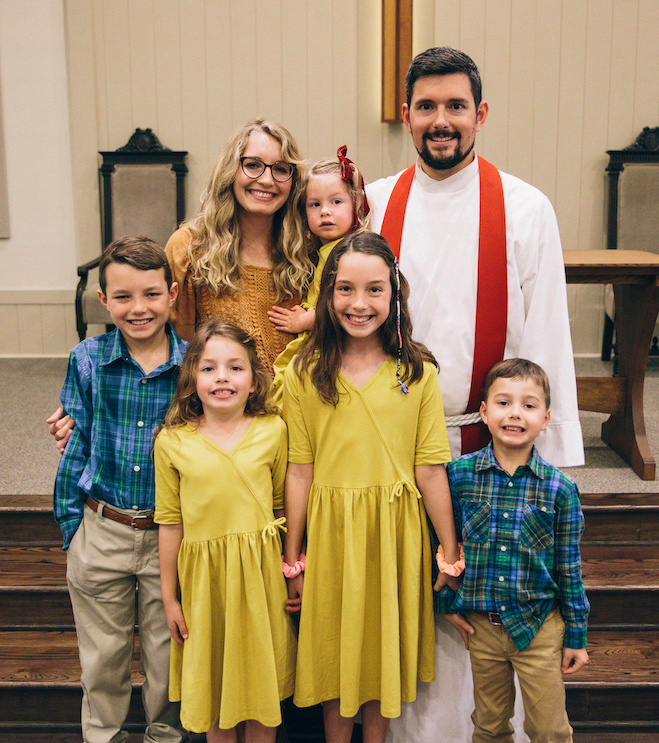 Pastor Kameron and his family joined TPC in 2018. He began a pastoral internship in 2020 and was subsequently called and ordained as Assistant Pastor in 2022.
Kameron received a B.A. in Biblical and Theological Studies from Boyce College (2010), an M.A. in Theology from New Saint Andrews College (2014), and the Fellows Certificate in Biblical, Liturgical, and Cultural Studies from the Theopolis Institute (2020).
Prior to becoming a pastor, he worked in the software industry for over 10 years. Kameron and his wife, Rachel, have five children.
Church Teacher and President of Theopolis Institute: Peter Leithart
Peter Leithart is a Teacher in our church, as well as President of the Theopolis Institute, where he labors alongside other scholars in promoting biblical, liturgical and cultural literacy.
Leithart received an A.B. in English and History from Hillsdale College in 1981, and a Master of Arts in Religion and a Master of Theology from Westminster Theological Seminary in Philadelphia in 1986 and 1987. In 1998 he received his Ph.D. at the University of Cambridge in England. He has served in two pastorates: He was pastor of our church (then called Reformed Heritage Presbyterian Church) from 1989 to 1995, and was founding pastor of Trinity Reformed Church, Moscow, Idaho, and served on the pastoral staff at Trinity from 2003-2013. From 1998 and 2013 he taught theology and literature at New St. Andrews College, Moscow, Idaho, where he continues to teach as an adjunct Senior Fellow. He and his wife, Noel, have ten children and thirteen grandchildren.